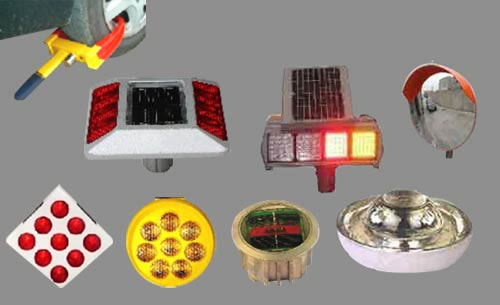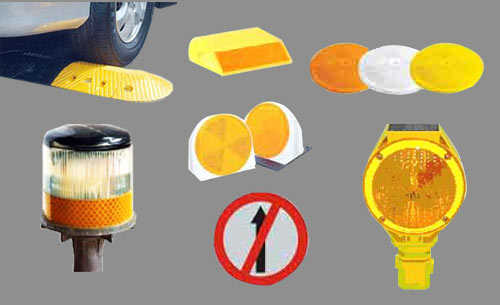 "GANM (INDIA) IMPEX (an ISO 9001:2008 Certified Company) is a pioneer and market Leader in the fast growing industry of Safety & Security Products with Pan India presence.
Solar Traffic Safety Products
Solar Cone Flasher / Barricade Flasher is installed on top of traffic cones or barricades. It has a small solar panel and a built-in rechargeable battery. The unit charges itself during daytime under sunlight and it automatically switches to flashing mode at night. It can be used for temporary or permanent arrangements. It gives an advanced warning to motorist during night.
Solar Road Stud
The SRS is an LED based product, designed to dramatically improve road safety for night-time driving. The bright flashing LEDs are highly effective at getting the attention of the drivers -much earlier than conventional (reflective) road studs. It is recommended for use at Island nosing's. Central verges. Centre medians. Traffic / Pedestrian crossing, Speed breakers. Center/ Edge line marking. Railway crossing etc


ADVANTAGES OF SRS


Unlike Reflective Road studs, SRS is prominently visible during foggy & wet conditions
Super bright LEDs provide proper guidance at night and during inclement weather conditions
Visible on busy roads even under on coming high beam
In built light sensors for automatic dusk to dawn operation
Maintenance free
Environment friendly- works on solar energy
Contact Us
Mr. Gaurav Khurana (Director)
No. 203, Skylark - 60, Nehru Place
New Delhi, Delhi - 110 019, India
Telephone: +(91)-(11)-26222080/ 41602080
Delhi@ganmsafety.com
Bangalore Branch
No. 414/65 (2nd Floor) 20th Main
West of Chord Road
Rajaji Nagar, 1st Block,
Bangalore - 560 010
Ph./Fax: +91 80 41644581
Bangalore@ganmsafety.com

Products